Guillotine Workshop from Kyria Sabin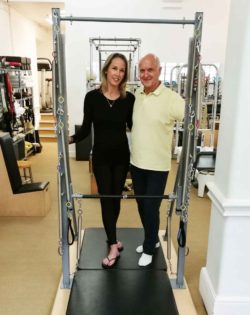 Kyria Sabin – who has redesigned classic Pilates equipment the Guillotine for the modern studio – recently taught a workshop to Alan's team of instructors.

Kyria, a long-time colleague of Alan's, is Program Director of Fletcher Pilates in the USA and has served on the PMA national board. Alan's studio was the first in the UK to purchase the redesigned Guillotine, which he describes as an extremely versatile piece of equipment. The Guillotine was one of Joseph Pilates' original machines, but in the New York studio it was installed in a doorway – not necessary a practical option everywhere! The redesign has brought its benefits to a new generation of Pilates instructors and clients.