Welcome to the Alan Herdman Pilates Teacher Training Course section.
The course comprises 15 units, involving up to twenty hours of study each week. On successful completion, a Foundation Training Certificate for Teachers of Pilates will be awarded. The next course starts on September 13th 2018. Please browse this section for more detailed information, and if you have any questions please do not hesitate to contact us.
If you would like to apply, please download our PDF Application Form.
Teacher Training News
Alan Features in Pilates Style
A recent edition of Pilates Style magazine included this article with photos from our studio. This page gives a taste of the full article which included Alan's expert guidance on the Spine Twist exercise.
Pilates Style is available at newsagents or as an online app for mobiles and tablets.
45 Pilates Teachers Attend Alan's Athens Workshop
Forty-five Pilates teachers attended Alan's recent workshop in Athens, which is part of continuous education for Pilates teachers in Greece. Alan has long-established links with the education programmes at Studio One, the main school for fitness and Pilates in Greece. He will return in February to hold further training workshops there.
Alan Teaches Houston Workshop, February 2018
Alan will be teaching a 3-day workshop programme in Houston over the weekend of Friday February 9th-Sunday February 11th 2018. Starting with Alan's Pre-Pilates Technique, the sessions explore topics including new exercises with the Reformer, and end with a full day looking at how to create challenging programmes for all levels of clients. The classes are bookable individually or as a full weekend.
Full details including booking information are at Elizabeth Jones-Boswell Pilates – and there's an Early Bird off for the full weekend if booked by December 15th.
New Reformers and more Konnector Kits for Seymour Street

We have transformed the Seymour Street studio with brand new wood framed "Clinical" reformers which are a higher model, so are easiest for people with injuries or physical conditions (as well as for our super-fit clients!).
Several reformers are fitted with the Konnector kit, allowing you to move arms and legs at the same time or independently in different directions to help the disassociation of movements. The Studio looks fantastic with a new layout which facilitates access to the equipment, including the Guillotine which has proved extremely popular (despite some initial misgivings about the name!) since its introduction. Our Canary Wharf Studio has also had a facelift as all the Reformers have been re-upholstered.
AHP-Trained Pilates Teachers Graduate

Twelve newly qualified Pilates teachers graduated this month after successfully completing the Alan Herdman Pilates Teacher Training Programme. The programme is internationally respected – this year's intake included students from China, Vietnam, Israel and Korea – and AHP-trained teachers work all over the world, recently in Australia, Switzerland, USA, Denmark, Canada and Greece as well as the UK.
AHP Studio Manager Mauro Ossola says "Alan's Teacher Training is acknowledged as the best in the UK, and probably in Europe. Our graduates are highly sought after – many studios only want to work with Alan's students – so the course will ensure excellent career progression." The next teacher Training Programme starts in September – just two places remain. Please see our dedicated page for more information, or email us.
Book for Alan's Workshop in Singapore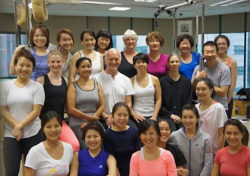 Bookings are open for Alan's upcoming workshop in Singapore, which will take place over the weekend of Friday 29th September to Sunday 1st October at The Pilates Works, Holland Studio.
The Pilates Works writes: "We are honoured to welcome Alan to Singapore this year to conduct a workshop for our clients and teachers." Six sessions across the three days will cover the following topics:
Friday, 29th September
Morning: Moving For Life (essential exercises for every client)
Afternoon: A New Modified Pilates Mat for the Lower Back

Saturday, 30th September
Morning: Pilates for the More Mature Population
Afternoon: Hip Replacement (Pre & Post Surgery)
Sunday 1st October
Morning: Advance Reformer Work
Afternoon: Pilates for Clients With Neck and Shoulder Issues
Please contact The Pilates Works for bookings and more information. Click here for the booking form.
$280 per session
$500 per day
Book all 3 Days to enjoy 15% OFF
LIMITED SLOTS!
Alan Teaching in Monaco, November
A unique event titled Pilates Pioneers will take place in Monaco over Friday November 3rd and Saturday November 4th, offering lectures, workshops and movement classes with some of the key names of Pilates.
Alan will taking workshops on "Comprehensive and modern mat work" and "Pilates with hip surgery" as well as meeting and greeting delegates on Friday evening.
The event takes place at the Novotel, Monaco, and bookings cost 300 Euro Earlybird before September 15th, and 350 Euro after. Please check the Polestar website or email for full details including special room rates for delegates.
Mauro Ossola's Workshop on Pilates and Parkinsons
AHP's Mauro Ossola facilitated a workshop on Pilates and Parkinson's Disease at the Annual McEntire Education Summit in July. The event, in Rochester Michigan, was attended by educators from around the world and was created to share experiences with one another as professionals and to further work with clients. As well as being AHP's Studio Manager, Mauro is a qualified McEntire Educator.